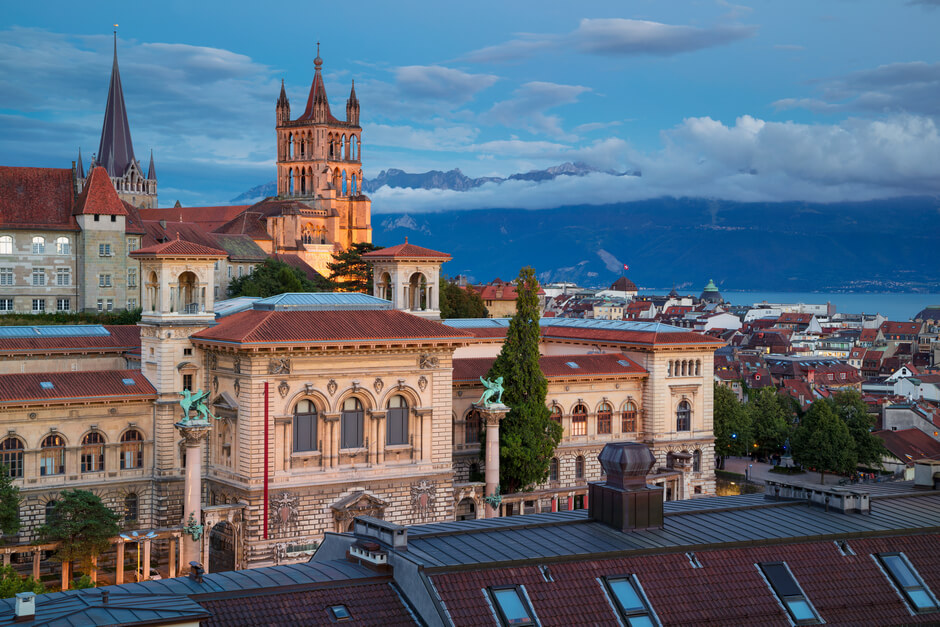 Lausanne (French: Lozan; German: Lo'zan; Italian: Losanna) is the capital city and largest town of the canton of Vaud in Romandie, Switzerland. This municipality is situated on the shores of Lake Geneva, facing the French town of Évian-les-Bains, with the Jura Mountains to its north-west – boasting a dramatic panoramic view.
The city offers plenty to see and explore, with a centre that spreads from the warehouse district of Flon to the medieval ruins at the top. Lausanne offers three popular annual festivals in the area, including Montreux Jazz, Cully Jazz and Paleo. Other notable activities of interest are:
Place de la Palud – the Old Town's main square and town hall
Lavaux Vineyards
The Golden Pass
Living in Lausanne
The average costs for a studio apartment range from 600 CHF to 900 CHF per month. On the other hand, bigger flats in the city are likely to be upwards of 2000 CHF. Lausanne offers excellent public transport with the option to purchase a monthly bus and metro access ticket for 60 CHF – providing an appealing mode through which to explore the city thoroughly. Lausanne is also easily accessible from other areas.
Schools
There are several outstanding international schools in the city of Lausanne, all within a close distance. Some you may want to consider are:
École Française de Lausanne-Valmont
Lycée Pareto (Italian school)
Brilliantmont International School
International School of Lausanne
Get in touch with the team about relocating