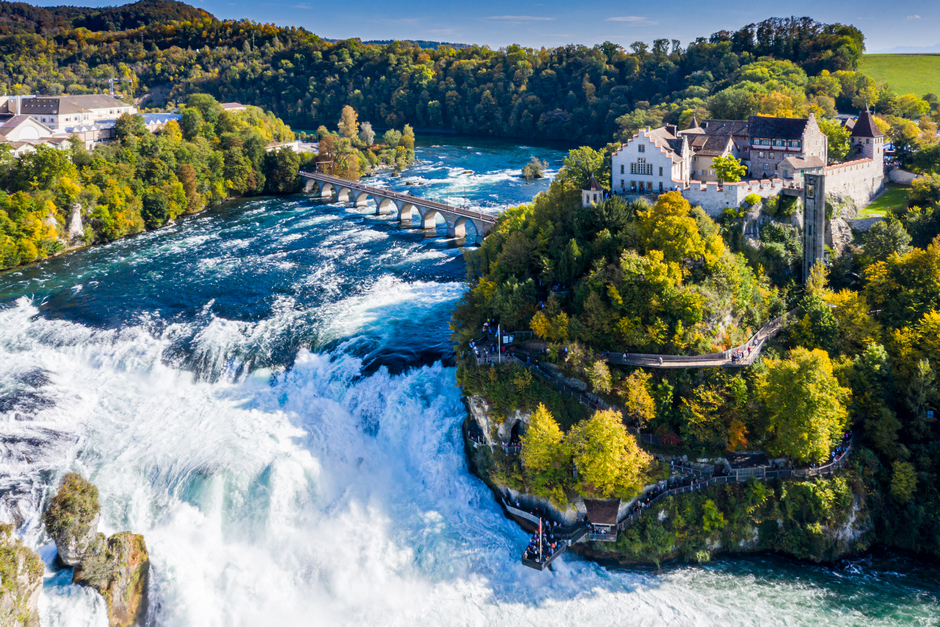 Schaffhausen (German: Schafuuse; French: Schaffhouse; Italian: Sciaffusa) is a town with historic roots situated next to the shore of High Rhine. It is one of four towns located in the north of Switzerland, and a municipality with a projected population of 36,000.
Schaffhausen is home to the beautiful Rhine Falls as well as more than 30 Swiss heritage sites of national significance. This includes the entire old town of Schaffhausen, the city walls and Schweizersbild Paleolithic Caves – giving visitors an abundance to discover and learn about. The city itself is small which means that travelling by foot is easy, or you could, of course, make the most of the excellent public transport connections. Schaffhausen is a quiet city, but Zürich can be reached in just 40 minutes via car or train. Some of the most notable sites and activities include:
Munot, 16th century circular fortress
Museum zu Allerheiligen, museum and monastery
Rhine Falls, Europe's largest plains waterfall
IWC Schaffhausen museum
Living in Schaffhausen
Schaffhausen offers a high quality of life and is attractive for internationally active and innovative companies, partially thanks to being close to the International Airport, meaning that connections to other parts of the world are strong. The average rental costs here are between 1500 CHF and 2200 CHF per month, excluding bills and additional costs. The standard spoken language is German, however communication in English is also common.
Schools in Schaffhausen
The International School of Schaffhausen offers international qualifications in English, and Rudolf Steiner Schule teaches in German. Many expats relocating to Switzerland favour private schools for reasons of continuity, language and culture. It is worthwhile staying informed and considering your intended length of stay, employment and place of residence. Demand may be high and places limited.
Get in touch with the team about relocating