Zûrich, the largest city in the German speaking part of Switzerland, is located in the North West of the country. The city is home to more than 400,000 inhabitants, Zûrich airport and the busiest railway station in the country. Among the world's largest financial centers, Zûrich boasts many financial institutions and banking companies as well as research and development organisations, making it one of the most livable cities in the world.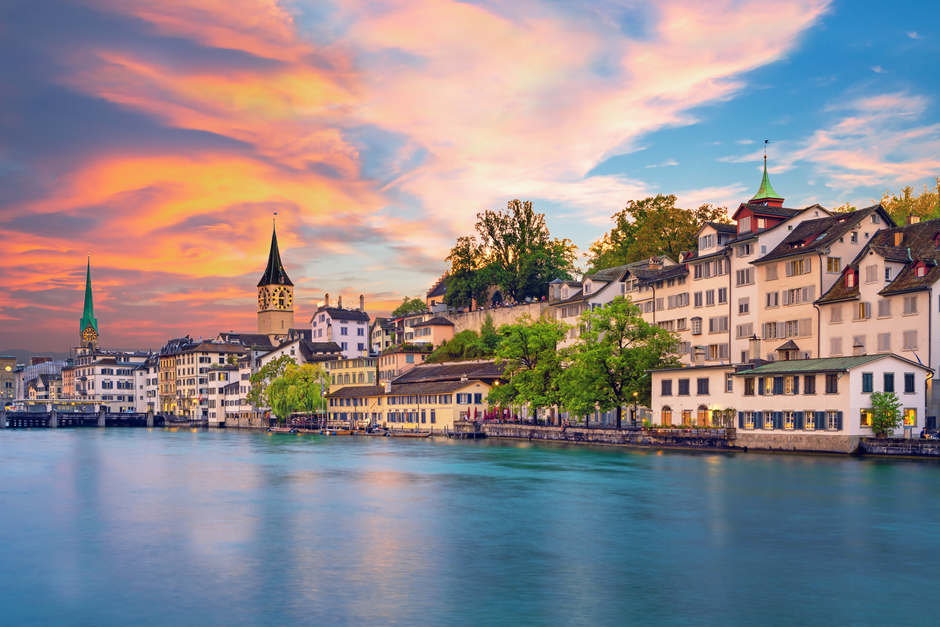 About Zûrich
Zûrich boasts a very high quality of life for its inhabitants and is a leading global city, with ten of the country's top fifty companies' headquarters based there. The city regularly receives high scores for work, housing, leisure, safety and, in particular, education as Zûrich is home to two of the most distinguished universities in Switzerland. The Swiss Federal Institute of Technology (ETH) is regularly ranked the top university in continental Europe and is recognised mainly in the fields of chemistry, mathematics and physics – meaning that many companies around the city benefit from highly skilled, multilingual students.
There are a wide range of things to see and do on a daily basis, such as take a walk along Lake Zûrich, get lost in quirky shops in the medieval old town or observe the stunning scenery from the peak of the Uetliberg Mountain. If you are an avid shopper, you might like to visit Bahnhofstrasse – one of the priciest, prime shopping streets in the world – think Prada, Gucci and Chanel. Or if you are more into history and culture, there are many beautiful landmarks occupying the city, including the Museum of Art, the Grossmünster Church, as well as annual festivals.
The Pharmaceutical Industry in Zûrich
Zûrich is home to a number of global pharmaceutical organisations, including Roche, Bayer and GE. In particular, there are over 1000 life science companies thriving in and around the city, with no other sector growing as quickly over the last twenty years. This means that there are many opportunities for research and development in the city.
Living in Zûrich
As well as being one of most livable cities in the world, Zûrich is also one of the most expensive. Taxes here are relatively low, however things such as insurance, food, healthcare and leisure activities are highly priced to match the higher salaries usually received here.
Accommodation in the suburbs of Zûrich is constantly being built to meet the housing demands of residents, with a two bedroom apartment costing an average of 3300 CHF and a studio apartment costing around 2500 CHF.
Public transport is extremely popular in the city and many of its inhabitants use these transport services on a daily basis, including trains, trams, buses and boats as tickets are valid across all forms. You can even take a cable car to neighboring cities of Adliswil and Felsenegg, or make use of the city's bicycle scheme "Masterplan Velo".
Schools
The Canton of Zûrich has a wide selection of international primary and secondary schools that teach in English and multiple other languages such as Japanese and French, as well as several private schools. Many of the schools run extracurricular activities and summer camps, offering important opportunities for socialization. The schools offer different courses ranging from pre-school to International Baccalaureate Programs.
Get in touch with the team about relocating