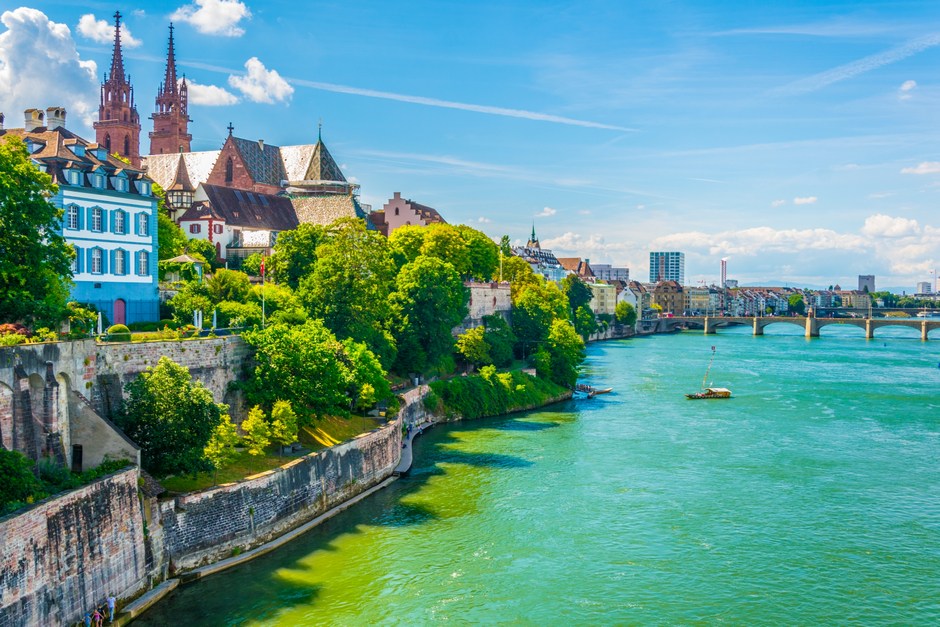 Basel (/ˈbɑːzəl/; also Basle /bɑːl/; German pronunciation: [ˈbaːzl̩]; French: Bâle [bɑːl]; Italian: Basilea [baziˈlɛːa]) is a city in northwestern Switzerland on the river Rhine. Basel is Switzerland's third-most-populous city (after Zürich and Geneva) with about 180,000 inhabitants.
About Basel
Basel is among the 10 best cities to live in worldwide. Home to the Rhine and the beautiful medieval 'old town', Basel is well known for its beautiful setting as well historic and modern buildings.
Living in Basel means you have everything you need right in front of you such as interesting museums, restaurants, bars, clean parks and playgrounds. It has over 40 museums dedicated to the arts such as the internationally known Basel Art Museum. At the weekend there are lots of opportunities for trips and days out. Lake Lucerne and the city Colmar in the Alsace are just 1 hours drive away, if you would like to ski, bike or hike, Interlaken (the gateway to Grindelwald, Murren and Wengen) is just 1 hour 30 minutes away. Neuchatel and Montreux on Lake Geneva are all less than 2 hours.
The pharmaceutical industry in Basel
The pharmaceutical industry in Switzerland is strongly influenced by the Basel region, numerous global organisations have their headquarters there such as the mighty Roche and Novartis. As such almost two-thirds of all Swiss pharmaceutical employees work in this area and about one third of Switzerland's export turnover is generated by the pharmaceutical sector. The pharmaceutical companies in Basel mainly invest this turnover in further development and research within the region. Basel has the third-largest number of life science companies in Europe and is one of the world's most important pharmaceutical hubs.
Getting around in Basel is very easy as everything is very local, you can do it by walking, cycling, taking the bus or tram.
Living in Basel
About 85% of people living in Basel-City live in apartments either by themselves or in shared accommodation. The standard cost of a flat can vary from 700 CHF up to 1'400 CHF per month for smaller flats. Bigger flats with 3 to 5-bedrooms can cost between 1'500 to 3'000 CHF per month. The most popular areas are both Rheinufer – in St.Alban in "Grossbasel" and Wettstein in "Kleinbasel".
Each living area has at a minimum one park and playground. In the east and south of Basel there are a lot of living quarters with houses for families with gardens and green areas. The west of Basel is made up of apartment blocks and attached terraced family homes. This website is well used by people looking for a rental: www.homegate.ch.
Schools in Basel
International schools in Basel are common as a lot of global companies reside here. Please find below some of the schools available:
Get in touch with the team about relocating