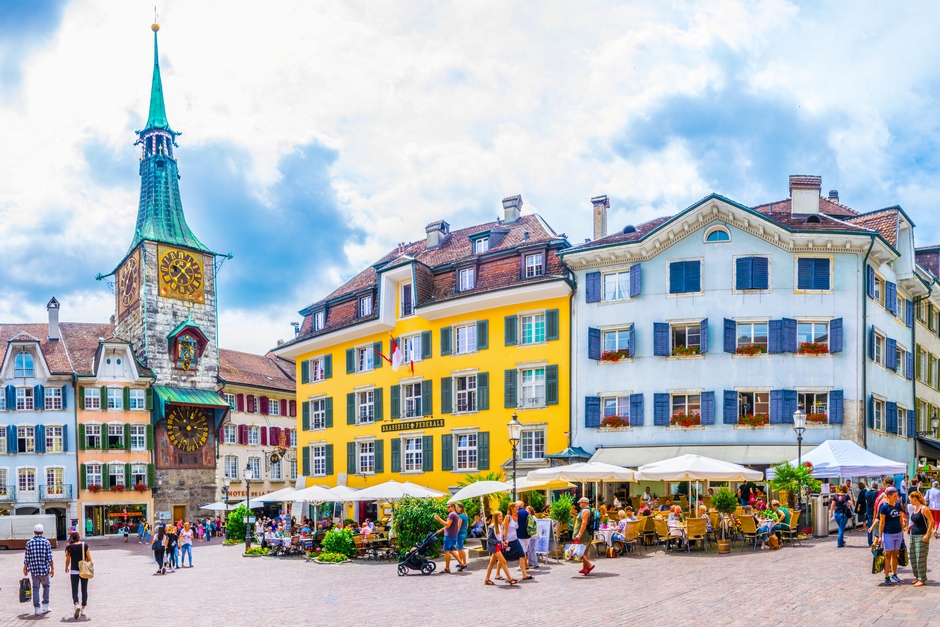 "Solothurn is regarded as the finest Baroque town in Switzerland, where Italian grandeur is combined with French charm and German practicality"
Solothurn (German: Solothurn pronounced [ˈzoːlotʊrn]; French: Soleure [sɔloeʁ]; Italian: Soletta [soˈletːa] ) is a town, a municipality, and the capital of the canton of Solothurn in Switzerland. It is located in the north-west of Switzerland on the banks of the Aare and on the foot of the Weissenstein Jura mountains mountains.
Soluthurn is commonly regarded as a beautiful town with eighteen structures listed as heritage sites, many of these are Baroque and Renaissance buildings.
MySwitzerland.com writes "Between the beautiful historic monuments, the patrician buildings and the sturdy fortifications, the traffic-free Old Town is a well-known pleasant place to wander, with lots of small shops. On warm summer evenings, it is lovely to sit in the garden restaurants and bars by the Aare". Some of the structures and activities nearby are:
Solothurn Cathedral, inside the city
Old city, offers boutique, high street and other shops and restaurants
Verena Gorge Hermitage, St. Verena is said to have passed nearby
Weissenstein, mountain summit with various restaurants and other activities to offer
Kunstmuseum Solothurn, Art museum
Living in Solothurn
The monthly costs of rental will depend on your location and the current availability of flats. Most people don't own houses and tend to rent, a standard two bedroom flat will come up about 1'800 CHF per month.
Charges and utilities are added to the monthly renting costs. They include also the building heating cost and maintenance. Also parking and electricity is paid separately.
There will be a high variety of properties to rent in surrounding towns such as Zuchwil , Biberist, Derending en Luterbach and Oberdorf.
The public transport is very good in the mentioned towns which will get you there via tram/bus in under 20 minutes and you can also cycle very easily into Solothurn as well. Solothurn also offers a local discount booklet called 'Zwei für Eins'.
Learning a new language
Solothurn is a Swiss German-speaking canton, German and other language courses are widely available. The Volkshochschule Solothurn is recommended by many newcomers, as well as MigrosKlubschule and Interlangues. Solothurn actively promotes integration and it's governmental integration department has information on state-subsidised language courses for newcomers. For language related clubs, look into Toastmasters, English Forum or Meetup.
Schools in and near Solothurn
Solothurn has two international schools, the International School of Solothurn and the Swiss International School of Schönenwerd, between Olten and Aarau. The Swiss International School has a close working relationship with the private bilingual day school and Care Centre Fitzgerald for children of nursery and preschool age.
Expat parents living or working in Solothurn also send their children to international schools in Bern, such as the International School of Bern, the British School of Bern, and Ecole Française de Berne. These schools are about 40 minutes' drive from Solothurn.
Other private schools or learning institutions in Solothurn include Feusi Bildungszentrum Bildungszentrum, Interlink Solothurn, Lernforum Ambassador, Privater Waldkindergarten, ROJ Mittelschulen Regio Jurasüdfuss and Rudolf Steiner Schule Solothurn.
Get in touch with the team about relocating