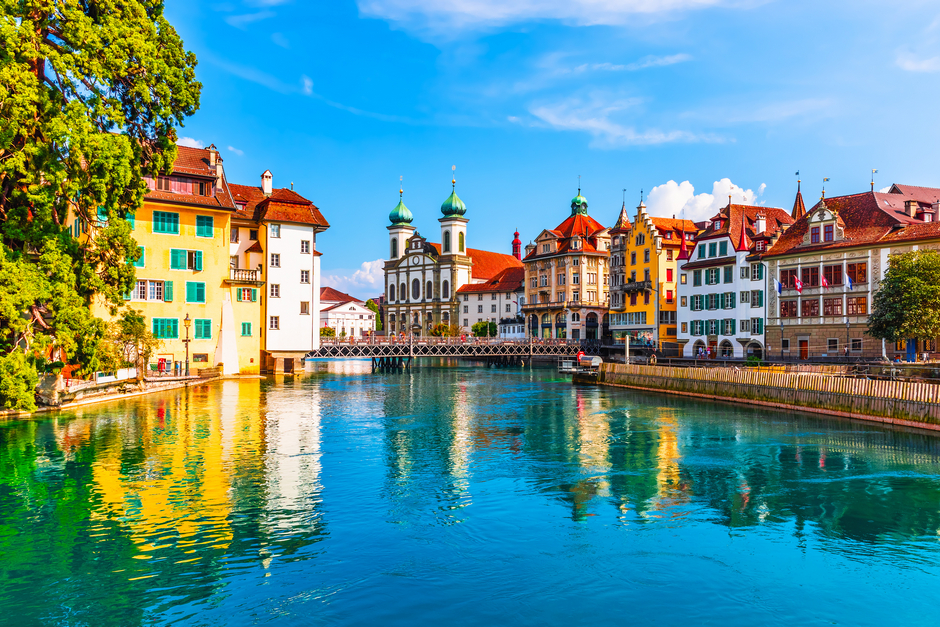 Lucerne (German: Lucerne pronounced Luzern [luˈtsɛrn]; French: Luzerne [lysɛʁn]; Italian: Lucerna [luˈtʃɛrna]) is a city in central Switzerland, in the German-speaking part of the country. With a population of about 81,000 people, Lucerne is the most populous town in Central Switzerland, and a nexus of economics, transportation, culture, and media.
An array of shops, boutiques, restaurants and cafes in the city provide visitors with plenty to explore, as well as a market each Tuesday and Saturday offering seasonal local products found nowhere else. Lake Lucerne (Vierwaldstättersee: "Lake of the Four Forested Settlements"), the fourth largest lake in the country, is also worth visiting, with mountainous views to be enjoyed for miles from numerous beautiful villages and beaches along the shoreline. Some other sites and activities nearby are:
Lion Monument
Swiss Museum of Transport
Jesuit Church, built in the 1600s
Rigi and Pilatus
The Pharmaceutical Industry in Lucerne
The geographical location and infrastructural facilities of Lucerne make it a favoured site for the pharmaceutical industry: centrally located, with access to the airports of Zürich and Basel, and the facilitation of access to highly-qualified people and communication with top universities and research institutions. The city is attractive to international companies, with B. Braun Medical AG, MSD and Geistlich Pharma AG all establishing themselves within the region.
Living in Lucerne
Average rental costs in Lucerne are lower than Geneva or Zürich. An average two-bedroom apartment will cost around 2'600 CHF per month, excluding utilities and additional charges. You will find that German is the most commonly spoken language by native residents, however communication in English is also not uncommon. The city itself is relatively small, meaning that daily commuting by a well connected public transport system is easy.
Schools in and near Lucerne
The two best and most accessible schools from the city of Lucerne are the International School of Zug and Lucerne (ISZL) and the Four Forest Bilingual School. Both offer classes in German and English, with extra-curricular activities and summer camps being an important element of student life.
Get in touch with the team about relocating